Thames Barrier Visitor Centre
Model Refurbishment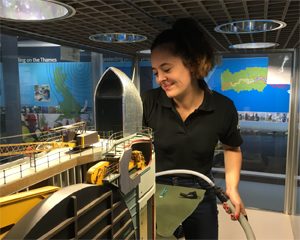 In May 2018 Brunel Models were approached by The Thames Barrier Visitor Centre in London to see if we could help them with the repair and refurbishment of their working scale model. They had found us when searching the internet and came across our website.
The Thames Barrier was completed in 1985 and we estimated that the model was made shortly afterwards so this would require some serious TLC to a model which was potentially over 30 years old.
Photos of the model were supplied so we could provide a comprehensive quotation to carry out the work.
This involved a general clean of the model on site using a vacuum and dirt removal using water based cleaners and alcohol. We needed to check, clean and grease/oil any accessible moving parts.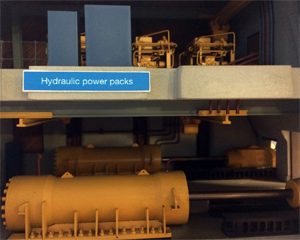 All of the existing cardboard labels needed replacing with digitally printed plastic ones.
The existing crane on the top of the model also needed to be replaced with a new crane supplied by the client.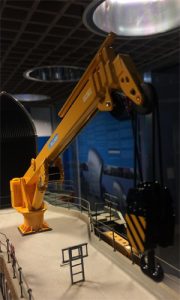 After submitting our quotation and receiving approval to proceed we arranged a suitable date to carry out the work.  In addition to this we cleaned the glass cabinet housing the model and repaired the access door too which made the whole job much better.
The Thames Barrier team were extremely pleased with the finished result and would recommend us to others in the future. "Simon was extremely detailed and professional in his work and we would highly recommend Brunel Models." We wish the team at the Thames Barrier Visitor Centre and successful season and thank them for their business.
Repair and Rebuild
of Resin Kits
Resin kits are a relatively inexpensive and a popular way to create model buildings for your layout but they can be very fragile to handle. This particular station building suffered a catastrophic accident when it was dropped on the floor and shattered into many pieces. Ordinarily this would have been destined for the bin but seeing as it was a birthday present from loved ones something had to be done to resurrect it.
The two gables over the main entrances had snapped off and were beyond repair, so a new parapet wall was added to the main station building so that the roof sections could be butted up to it. The walls were sanded straight and glued back together using industrial strength super glue.
In addition to the rebuild a new platform with water station and fencing to the rear were manufactured from outdoor grade materials.
The model was then spray painted with a base coat of cellulose primer and then detailed using cellulose outdoor grade paints.
Extra details such as signage and windows were added again using outdoor grade materials and printed media. The platform was given a textured surface and painted with outdoor grade masonry paint.
The fully refurbished model complete with miniature figures, post box, luggage etc. to give it that finishing touch. An expensive birthday present but well worth the effort.
Transforming your existing models
Your layout may have precious models which are looking a little tired or have been damaged over the years, but don't worry, we can repair and refurbish them for you and bring them back to their former glory. (see our Gallery section)
Enjoy running your trains later in the day, especially during those warm summer evenings by illuminating your lineside buildings with low voltage lighting bringing your layout to life.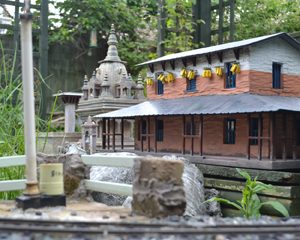 Why not have your favourite indoor model buildings re-made into weather proof ones so that you can enjoy them all year round on your outdoor layout. (see Bespoke Projects)