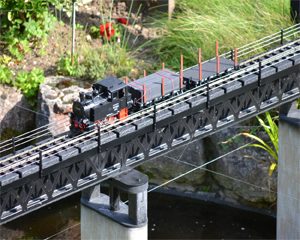 New video now available…
A full video of our latest project to install a full 'G' Scale garden railway with featured Taj Mahal style station building and infrastructure is now available to view. Why not visit our gallery and Bespoke Projects page for a detailed feature explaining how we did it…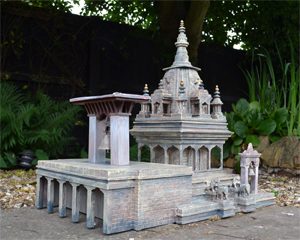 All our models are made using weather-proof materials so your buildings and infrastructure can be left outside all year round for you to enjoy. Models are finished with weather resistant paint to give maximum durability.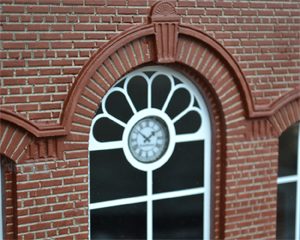 Apart from our bespoke service we offer a range of "easy build" kits for you to buy as flat pack to build yourself, ready-assembled or fully-assembled and painted to your desired colour scheme. Low voltage lighting can be included at extra cost. 
Westfield Indoor Railway FOR SALE
Business Partner Andrew Mitchell is selling his Indoor narrow gauge railway. This is a 16mm modular layout which has two different set-ups with a central steam up area. All sections fit into special trucks. The layout has a number of buildings including cottages, custom house and foundry modelled on Portmadog in Wales. Andrew is looking for offers around £4,000. Please email us if you need further information….
NEW… Gauge 1 models are NOW AVAILABLE TO ORDER!
Our second batch of new Gauge 1 model buildings and structures including sand house, extra large water tower, stone walling and various line side buildings are now available to order on-line. Just select the Gauge 1 tabs on the left of our web page.  All models will be available to order in kit form, fully assembled and fully assembled and painted unless specified. Please allow 4 to 6 weeks for delivery… We are continuously updating our list of models and hope to add more in the new year. WATCH THIS SPACE FOR MORE UPDATES…
Open Days at Westfield Light Railway
As part of our customer relations will be opening our outdoor showroom (by appointment only) throughout the year to club members and potential clients. If you would like to know when our next open day is please email or phone us. The video above was taken by Rod Nipper from the 16mm Society. Thanks Rod….
Welcome to Brunel Models
Here at Brunel Models we specialise in designing and making bespoke models in any scale to suit your requirements.
If you have existing buildings and infrastructure which needs repair work or simply refurbish we can help. Just send us details and we will call you to discuss your requirements.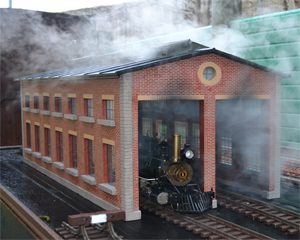 If you are considering building a new outdoor layout please contact us to help you design and construct any buildings, station platforms, signal boxes or other structures to compliment your scheme. We are happy to discuss your requirements in detail and provide a comprehensive quotation to suit your budget.
Motley Miniatures
If you are looking for good quality miniature figures why not
email Mike Statham with your requirements. Brunel Models
have purchased several figures from Mike and we are very happy
with them. We would therefore like to recommend his products.
To contact Mike visit: motleyminatures.co.uk
or email: motleyminaturesuk@gmail.com